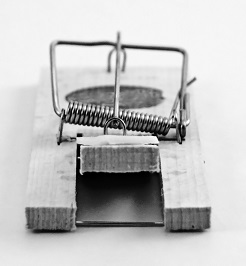 This week my blog has been devoted to a talk I gave to our female high school students during our student ministry's sexuality series.  The response to these posts has been overwhelming!  So, I decided to add one more post.  This too comes from that original talk.
As I wrapped up the conversation, I warned our girls of a few traps that commonly derail women from what they really want out of romance and relationships.  Here they are:
1.  50% of Guys are Dangerous to Your Dreams
Unfortunately, pornography has become a massive issue in our culture.  Recent studies have shown that as many as 50% of guys are addicted to pornography.  I know that the last thing you want to think about is pornography but it's important to understand that guys who are addicted to pornography are dangerous to your dreams.  If the statistics are true, this means that half the guys out there are not for you.  Here's why:
Pornography is toxic to intimacy.  Pornography will corrupt the way a guy views women.  The longer he is addicted to pornography the more women become mere objects.   Let me speak plainly, you DO NOT want to end up married to a guy who is addicted to pornography.  I have seen and heard of so many marriages that were wrecked because of pornography.  If you discover that the guy you are involved with is addicted to pornography dump him and run—even if it's the day of the wedding.
2.  You Get What You Dress For
Look, I understand that you crave and love the attention that you get from dressing sexy, but there is a cost.  First, there is a danger in viewing your self-worth more and more through the lens of physical beauty.  Eventually this will cause major problems to your self-image.
Secondly, what you really want is a man who will treasure you for all your life.  This kind of man is searching for a woman who is worthy of respect.  Whether it's fair or not, men make snap judgments about a woman's character based on the way she dresses.  If you want attention from the kind of man who will treasure you forever, aim for cute and save sexy for the night of your wedding.
3.  If you Want Good Coffee Don't Go to Denny's
This one will blow your mind:  You will most likely fall in love and marry a friend.  You will probably meet this friend somewhere that you regularly hang out.  This is how romance works.
You also don't get to decide beforehand who you will fall in love with.  That's the funny thing about falling in love—you fall into it.  It just sort of happens.  One minute he's funny and the next he's dreamy.  It's like magic.
So, if you'll most likely marry a friend who you meet somewhere that you regularly hang out, you should probably pay close attention to who you hang out with and where. In other words, if you want good coffee don't go to Denny's.  Go to Starbucks.
Confused?  If you want a godly man who will treasure you forever, hang out in the places where he'll hang out.
4.  Prince Charming Won't Change Who You Are
My final warning is this, don't fall for the trap that the perfect guy will make you happy or complete you.  No guy, no matter how dapper or gentlemanly can love you more than God already loves you.   Be who you are in Christ.  Truly understanding and living out your identity as a treasured daughter of the King is the key to everything.